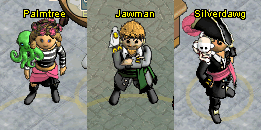 A familiar is a piratey pet won in huge tourneys, like the Olympic Champions League or certain forum contests. They are only created when two OceanMasters agree to create one, and what results is a huge tournament or contest likely to have many entrants. In other words, it's very hard to get a familiar.
There are currently only three animal types available: monkey, octopus, and parrot. Monkeys and octopi are monochromatic and parrots have two colors. The color will depend on the contest: some allow for the winner's color choice within the guidelines. Pure white familiars are reserved for OCL temporary familiars. Monkeys are only allowed in more "natural" colors. Black is not allowed for players' familiars.
Familiars are rarely available for purchase and never directly from the Ringers. When a player decides to part with his or her hard-won familiar, the general asking price lies somewhere from 2,000,000 to 5,000,000 Pieces of Eight.
Related Links
Edit
Ad blocker interference detected!
Wikia is a free-to-use site that makes money from advertising. We have a modified experience for viewers using ad blockers

Wikia is not accessible if you've made further modifications. Remove the custom ad blocker rule(s) and the page will load as expected.